Hey, I'm Michael Culp, and today I'm going to give you 4 tips to develop a content marketing strategy. Let's get started by defining what content marketing means.
Traditional marketing is basically advertising, where you talk about your business and your offers and why people should work with you or buy from you.
Content marketing, on the other hand, aims to educate and show what's possible, and by doing that, people start to think of you as the expert they want to work with. It's a bit of a slower process, but it's way more efficient.
Today, more than 50% of businesses invest money, time, and energy into content marketing. The content you produce will bridge the gap, making the cold audiences who just heard of you into warmer prospects and paying clients.
By providing good quality information with your content, you'll build trust, and it's well known in marketing that trust is an important drive to sales.
Now that you know the importance of content marketing, let's get into the 4 tips.
1 – DECIDE YOUR CHANNEL
You need to decide on the content format that makes the most sense to your business. The big three content formats that you can choose from are blog articles, podcasts, and videos.
Blog articles are the easiest type of content to produce because there is not a lot of production involved. It's also possible to get multiple team members involved, you can even outsource some of the writing.
With blog articles, you can also take advantage of Google searches to generate a lot of traffic. The downside of blogging is that it's less personal because people can't see or hear you.
Podcasting ups the difficulty a bit because there is more production involved, you need to outline what you'll say, then you need to record and then you need to edit it. The advantage is that your prospect listening to your voice adds more trust than in a blog post.
Video is even harder to produce than a podcast because now you're dealing with visuals as well as audio. But the benefits of video are huge. WIth video people will feel that they know you even more, therefore increasing trust.
So, you need to choose at least one format to put content to your audience. A pro tip is that if you're doing video content, you can extract just the audio of the video to use as a podcast and you can even pay a virtual assistant to transcribe the video and publish it as a blog post.
2 – DEVELOP A CONTENT PLAN
When it comes to planning your content you need to start by thinking of a schedule you can commit to. Usually, once per week is the best, because more than that can become very difficult to stick long term and less than that gets difficult for you to stick to your prospect mind.
But you don't need to worry about it, if the best you can commit to is every two weeks or once a month, that is better than doing nothing. It's still valuable.
After setting your schedule, you need to brainstorm your content plan. What are the topics you'll be covering?
To develop your content plan you need to think about the buyer's journey, which is composed of 3 stages: the awareness stage, consideration stage, and decision stage.
In the awareness stage, the buyer is experiencing a problem and aims to alleviate it. They will be looking for informational resources to understand more about the problem. Example: "Why does my back hurt all the time?".
After they start to understand the problem, they will start to research the available methods to solve it. Example: "How do I treat back pain?".
After they decided on the method, they will start to look for vendors, to make a purchase decision. Example: "Best mattress for back pain".
3 – PROMOTE YOUR CONTENT
Your content will be of no use if your customer can't find them. The 3 main ways to promote your content are SEO, social media, and email.
With SEO you can attract consumers organically via search engines, by including keywords that bring visitors to your article or video.
Social media is an incredible place to find more people to consume your content. A pro tip is to find a good-looking image and write a short piece of copywriting that instigates the prospect to read your article.
Email marketing can also be great. Individuals who subscribe to your list, have chosen for themselves to receive your content. This makes the probability that they will be interested in what you're saying higher. So, if you have an email list, take advantage of the opportunity.
4 – TAKE ADVANTAGE OF PARTNERSHIPS
Partnership marketing is when you take advantage of other people's audiences.
You can reach out to influencers in your niche and offer them something in exchange for them to promote your content. You can guest post on popular blogs. You can also do it through affiliate marketing, by finding affiliate marketers to promote your business.
CONCLUSION
Today, with the internet, content marketing became a core business strategy and is very important to business success. In this article, you learned 4 tips to develop your content marketing strategy. To recap:
Decide your channel;
Develop a content plan;
Promote your content;
Take advantage of partnerships.
AUTHOR BIO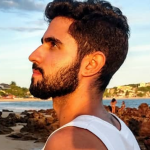 Michael Culp is a Business Master's Student and founder at ambitionyard.com. He is a business enthusiast and on his site, he teaches the best ways to make money online.