Bigger is better… until it's not.
We all want more visitors, more pageviews, more of an audience for our website.
But is that what we really want?
How to Make Money Online With SEO Marketing
Most of us running an internet business want to make money online. Most of us creating content want more of an impact. What's the use if you reach millions of people who see your best stuff and then shrug, never to come back?
Wouldn't it be better to reach "only" hundreds of thousands of people who absolutely love your ideas and your services?
I met a smart young woman named Joy who owns a small jewelry shop. She knows nothing about marketing jewelry. She's fantastic at making artistic rings. She's also a terrific salesperson.
She hired a marketing company to get people into her shop.
She confided in me that the marketing company ran a campaign and suddenly she had 100 people a day visiting her little store!
She was so excited, "This is fantastic!" But after a week she sheepishly confessed that she sold the same amount of jewelry as she had before running this expensive advertising campaign.
Puzzled, she asked me, what happened? Had she lost her magic salesperson touch? Were her intricate rings and stylish bracelets not edgy enough?
After a little prodding Joy let me know that the marketing company she hired lured people into her store by setting up free pizza in the corner.
Ah, delicious pizza. Who can resist? Brilliant! Well, no.
Sure, some of these "pizza people" browsed Joy's selections and she even signed-up a few to her email marketing list.
But the bottom line is Joy didn't make extra sales from this campaign.
I asked if Joy had spoken with more than one marketing agency. She had.
Joy didn't hire the other marketing company she interviewed. Those marketers were more expensive AND they admitted they'd get FEWER people into her store.
Well, fewer people in the store at a higher price sounds like a bad deal!
But it turns out that not all people in a store (or visitors to your website) are the same!
After looking over the other marketing company's (more expensive) plan, I advised Joy to switch.
They were only able to get 10 people to her jewelry store each day.
My stomach knotted up. Did I just make Joy's problem worse? Small business owners can't afford expensive mistakes!
This marketing agency's campaign resulted in just 10% of the other company's visitors! It was 90 fewer people per day! Plus, Joy's store no longer smelled like wonderful pizza.
However, by the end of the week, Joy's sales shot up! Joy celebrated her most profitable week ever!
Why did that happen?
It's because this smarter marketing company resisted the "easy way" out. They cleverly focused on the right people. In Joy's case, the right people are those who have an urgency to buy jewelry and have the ability to afford her prices.
It's pretty simple if you think about it. If you sell diamond rings, would you rather have 100 random people visit your store, or 10 people who are weeks away from asking their partner to marry them!
This is exactly what we did at The RideShare Guy. We focused our efforts on reaching the right people, at the right time, with the right offer.
Yes, we still love getting traffic to our informational articles (people just browsing with no intent of taking an action). Yet it's the folks who come straight to our "bottom of the funnel" articles who are the most profitable.
So while overall our traffic dipped 10%, traffic to the articles that matter most to the business increased.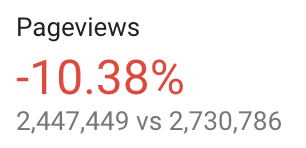 Pageviews dropped 10% Year over Year, but profits DOUBLED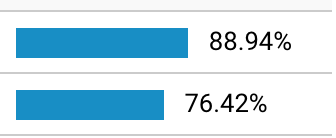 Shown above, our main target audience is English speakers in the US. We jumped up from 76% to 89% of our audience. It's about reaching more of the right people (for YOUR business), not reaching more people in general.
Getting specific, th​e site lost 35,000 visitors to the most-viewed article on the site over the course of the year.
So how did we have our best year ever as measured by revenue and profits?
It's because all our other top-10 most viewed articles (besides our home page) were bottom of the funnel pages.
Gaining hundreds of thousands of eager buyers is easily superior to shedding the same number of people who are only just curious.
I mean, if you're single, would you rather go on 50 dates with people who rate you as, "average looks, fairly smart, and slightly better to talk to than my houseplants?" Or instead you go on just 5 dates with people who rate you as, "stunningly hot, highly intelligent, and more exciting than surfing atop a happy dolphin swimming towards a sunny beach with a taco stand."
Another example, say you run a fast food restaurant. Let's say your most profitable item by far is soda. It's easy to see how 5 customers who order soda are more profitable than 5 customers who do not. In fact, your 5 soda-guzzling customers may be more profitable to you than 10 water drinkers.
So as a marketer, don't aim for 10 random people to come into your fast food joint. Aim for 5 soda drinkers!
How SEO Is Like Friendships
I used to be popular. I had hundreds of friends.
Or so I thought.
I always had buddies to play sports with, hang out, and share laughs. But when I got a flat tire on the road, I ​​had trouble getting these friends to come help me. It seems it was always the same 4 or 5 friends who had my back when I needed them.
As I got older I realized I didn't need 200 "friends." I relied on a small circle.
As an SEO marketer you don't need 3 million people who bounce off your site in under 30 seconds. Instead you need enough people who absolutely love your content and eventually want to buy what you're selling.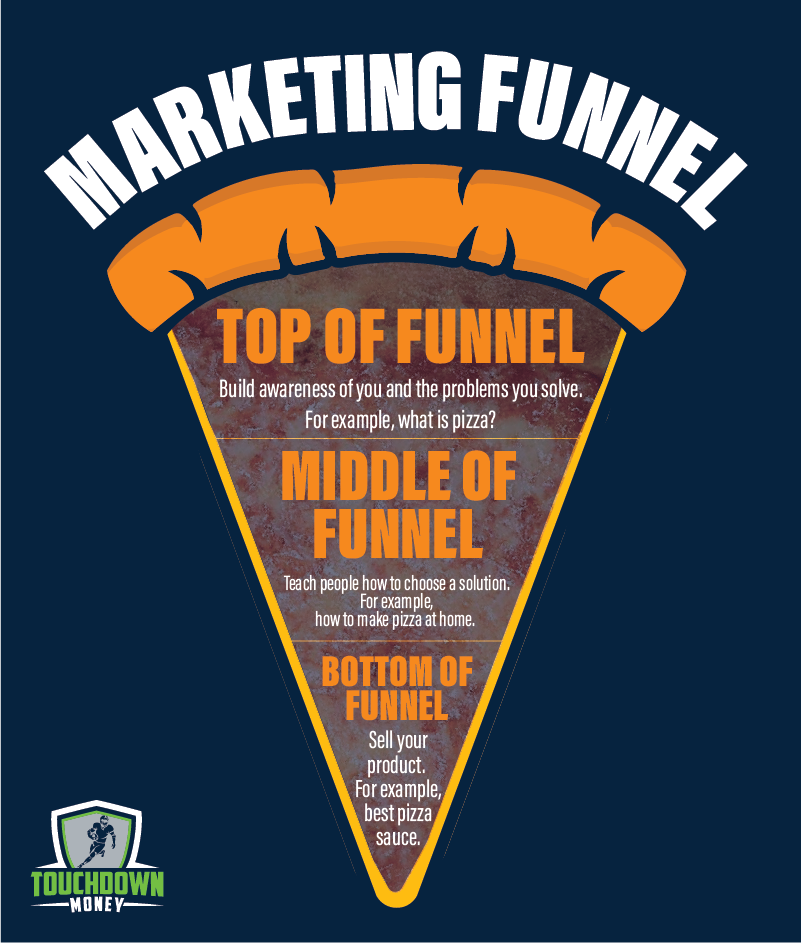 Infographic Source: www.touchdownmoney.com
So why write "top of the funnel" informational articles at all?
Why You Should Write Top of Funnel Content
We just established this content doesn't earn you nearly as much money. However, there are 3 important reasons to publish top of the funnel content:
1 – Inbound Links from other websites
2 – Easier to rank in search engines like Google
3 – Nurture leads down the sales funnel
Give Websites a Reason to Link to You
The most important ranking factor in SEO are links from reputable websites to your website. So how do you get other websites to link to your site?
One way is to have a unique and useful informational article. Other websites will want to provide their audience with this new data or analysis.
News media especially loves data and surveys.
Easier to Rank on Search Engine Result Pages (SERP)
Bottom of the funnel content where the keyword phrase indicates the person is ready to buy now is usually much harder to rank. For example, "best business credit cards."
Top of the funnel informational content is often easier to rank because there's less competition. For example, How to get referrals.
Nurture Your Leads With Useful Education
I'm a huge advocate for educating your audience. People buy from who they know, like, and trust. When you teach someone something without trying too hard to sell them, you build trust.
While this person may not be ready to buy now, when they are in the market, you're the first (and maybe final) place they'll look.
Did you ever wonder why online fitness gurus post all those free videos showing you exactly how to perform various exercises?
It's because lots of people are searching for "how to" properly do those exercises. Now that the fitness guru has your attention, she or he has the opportunity to earn your trust.
When you're ready to buy a personalized fitness plan or piece of equipment, you'll be much more likely to buy from this person who has educated you. You've formed a bond! You learn from this person every week, or maybe even every day!
To get back to the main premise though… most people who seek out your free information will not buy. That's OK. It's still useful to create this content.
Just remember that it's the bottom of the funnel content that's going to make you most of the money. So the top of the funnel content is only a success (business-wise) if it
Motivates enough people to eventually buy what you're selling
Earns links from reputable websites
Ranks on, say, the top-half of page 1 of Google and other search engines to bring new visitors to your website
Powerful SEO Tip: When you earn lots of links from reputable websites to your top of the funnel content, be sure you link to your bottom of the funnel content from that page!
Summary
In my experience running SEO content marketing at The RideShare Guy, we had our most profitable year ever by focusing on getting qualified leads to "bottom of the funnel" content, even as overall site traffic dipped 10%.
The main takeaway is to stop obsessing about how many people visit your website. Instead, focus on getting more people to visit who are qualified and ready to buy.
You can do this by concentrating your effort on your bottom of the funnel content. These are the articles that directly sell to folks who are clearly ready and able to buy.
Author Bio
Scott Lieberman is an online business expert. He teaches entrepreneurs how to make money online. Scott reviews business tools from the best web hosting services to email marketing software. Scott has worked with multi-billion dollar corporations, as well as with small businesses to double their profits to millions of dollars.