Data is the best friend of every marketer. Without data, a marketer cannot know what is working well for his campaigns, diagnose potential problems, and determine the areas to focus his efforts on.
However, all data are not equal, and knowing the metrics to monitor can mark the difference between success and failure. Marketers have access to dozens if not hundreds of marketing analytics tools.
There are N number of tools in the market. All These tools promise you the ability to process your data and extract insights from it, but is it all worth your consideration?
Why Do You Need Marketing Analytics Tools?
Digital marketers should have a way of managing and measuring the performance of their marketing campaigns with a great marketing plan. This is exactly what marketing analytics tools help them to achieve. Marketing analytics tools help marketers to improve their efforts and prove their worth. Their goal is to make marketing activities more effective and justify the investment.
Marketing analytics tools are capable of gathering data from all channels in your marketing mix and report on them together. They make it easy for marketers to generate reports without relying on data scientists, track campaign success, and perform competitive analysis.
What do Two Minute Reports offer?
Two Minute Reports (TMR) is a Google Data Studio and a Google Sheets connector, Two Minute Reports requires no coding knowledge to set up and use. And getting started only takes a few minutes, since all you have to do is authenticate the data sources you'll be using.
Apart from others, Two Minute Reports provide data options like automatically setting all null values to zeros. With TMR, Google Data Studio can be set up in a few clicks, including e-commerce, social media, SEO, advertising, and web analysis.

Two Minute Reports supports all major connectors, with many more on the way.
YEARLY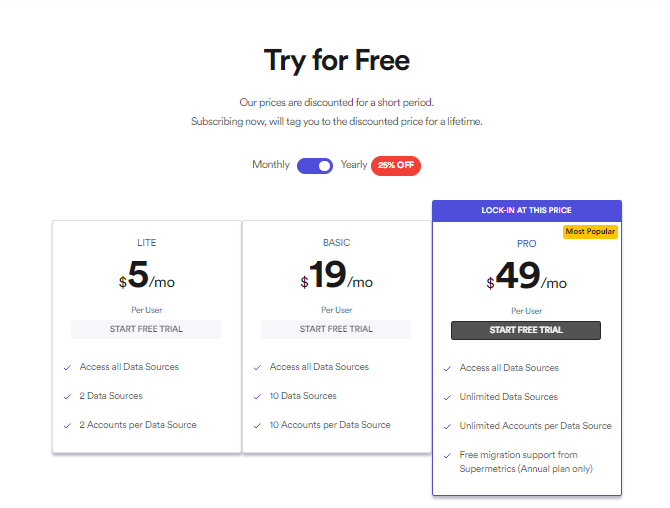 MONTHLY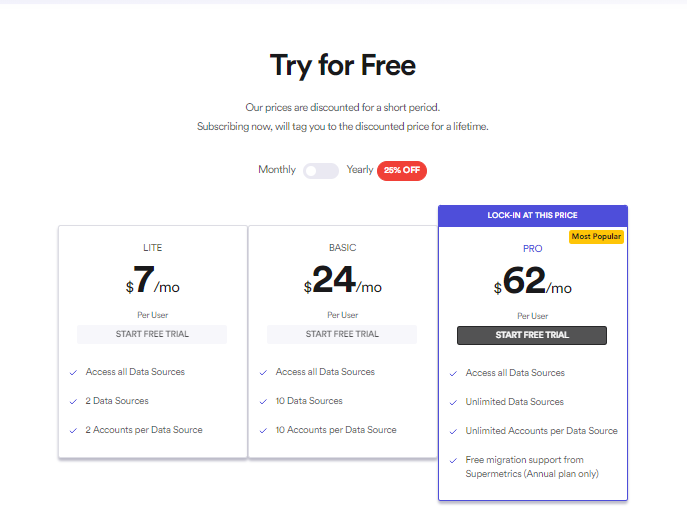 Two Minute Reports Pricing starts from $5/mo when billed annually. And $7/mo when billed monthly. Providing the highest value for money with all major data connectors and some great features.
Unlike others, Two Minute Reports provides 2 data sources and 2 Ad accounts per data source with their starter plans. For example, if the user chooses Facebook Ads and Google Ads. They will be able to add 2 Ad accounts for Facebook Ads(2 Facebook accounts). And 2 Ad accounts for Google Ads (2 Google Ads accounts). In Two Minute Reports, users can customize every plan. They are given the option to add as many users and data sources as they desire.
The pro plan from Two Minute Reports offers unlimited data sources and unlimited Ad accounts to users. TMR allows you to add 100's of Ad accounts. No problems! While others only provide limited data sources with their pro plans, TMR offers unlimited data sources. And still costs lower than others and provides great value for the money.
Still Not Convinced?
Here's a few examples of how we've helped our customers. Once a customer, who was running a marketing agency, wanted to monitor how their ads performed on a daily, weekly, monthly and 3 month basis. The customer requested a spreadsheet that can be used as a hubspot, wherein the customer can see all his client's data. And a spreadsheet for every customer, which can be shared with his customers. Guess what we helped him do it.
Recently, a customer wanted to create a reporting template, not for her users. But for their company's internal use. To see how they were coping up with the needs of their customers.
At Two Minute Reports, we value customer feedback more than anything else. We keep our customer's needs at the core of what we do. Don't just take our word on it, check out our customer feedbacks.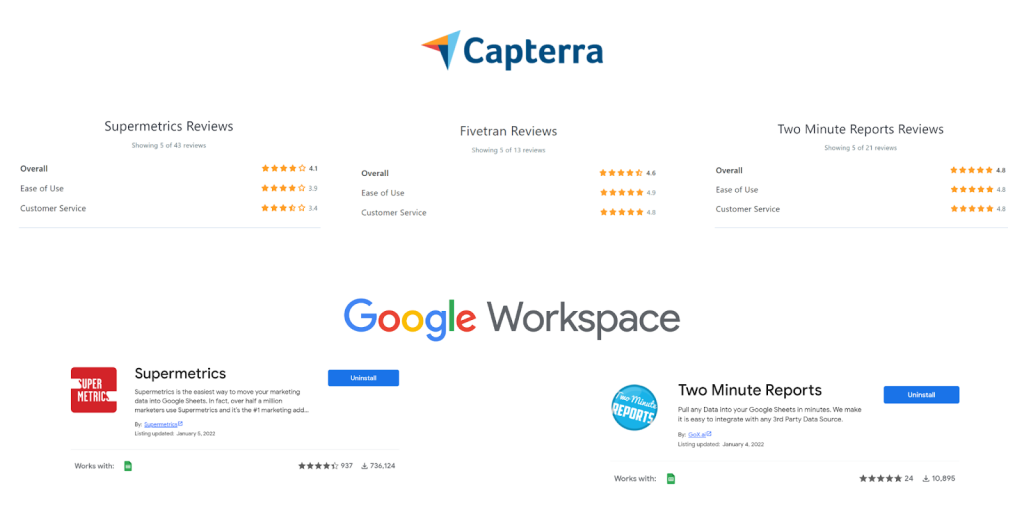 Interested in how we compare to our peers
Check out our articles on