Owning a website means knowing exactly what's going on. You will know what, when, and why if anything happens.
But what if your site grows? You start working with authors and editors, What if you start taking user submissions?
So who keeps track of everything? What is the need for time tracking software? Normally, you spend weeks working on several projects for various clients, but how do you know which ones will be profitable in the end?
Plugins for WordPress activity logs can help. They give a chronological audit trail of who made modifications and when.
These plugins can help when you aren't available to monitor your website.
That's the topic of today's post.
We compared the current top-performing WordPress activity log plugins.
What Are Activity Logs?
Audit logs, security logs, and activity logs are all synonyms. They keep track of every update made to a website.
Because WordPress is a database-driven content management system, every modification is logged. That means you have a record of everything that happens on your website.
A log contains an event ID, date and time, user and role, and what changed. Depending on the log type, the user's IP address, event type (blog post updated, image altered, etc.) and object modified (page, post, social comment, etc.) may also be included.
The biggest issue is getting such logs. Intuitive usage of the default WordPress log tool That's where WordPress activity log plugins shine.
Why You Need a WordPress Activity Log and Tracking Plugin?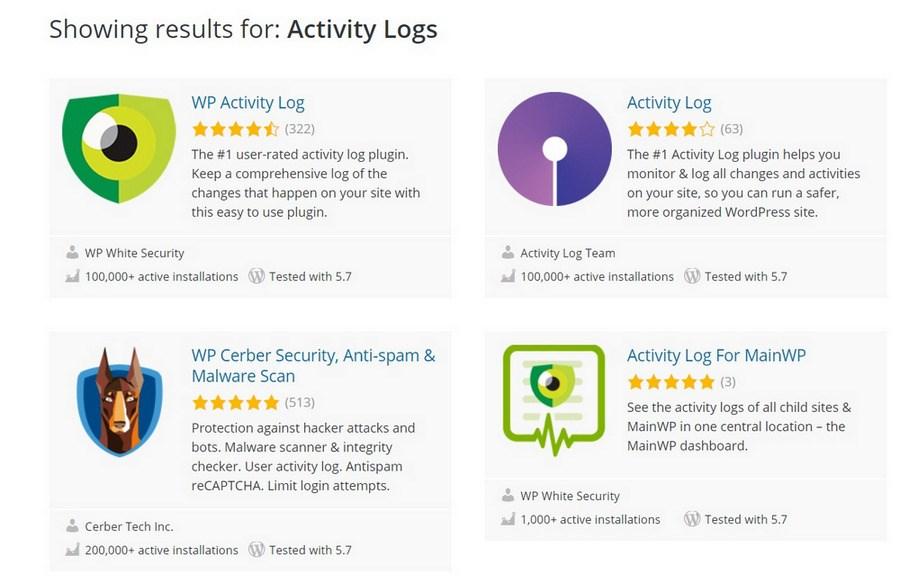 WordPress activity log plugins are essential if you have a membership site that is constantly attacked by hackers, or your website keeps crashing. And if you want more custom functionality in your activity log plugin you should hire a WordPress developer expert who will help you out in the process
You do if you let others visit your site. People you know, trust and respect are fine. You must be aware of your website's status.
That goes double if you allow public contributions, account profiles, and other improvements!
Log Files and Troubleshooting
If you have WordPress, theme, or plugin issues, log files are priceless. They are widely used in the IT industry to find and fix problems.
In spite of WordPress's reliability, errors might occur. Bugs can be introduced, plugins can cause issues, and any modifications we make to these products can cause problems.
Log files can be quite useful when trying to discover and fix issues or bugs. Having log files can save you hours, if not days, of troubleshooting and rollback.
WordPress Log Files
Debug Mode is a built-in WordPress log tracker. In addition, it isn't default enabled or user-friendly.
It provides a wide range of logs for monitoring WordPress core and can reveal a lot about your installation.
That said, it won't track visitors or any other website activities.
That's why we don't suggest it and instead recommend these plugins.
Reasons Why You Should Keep Tracking User's Activity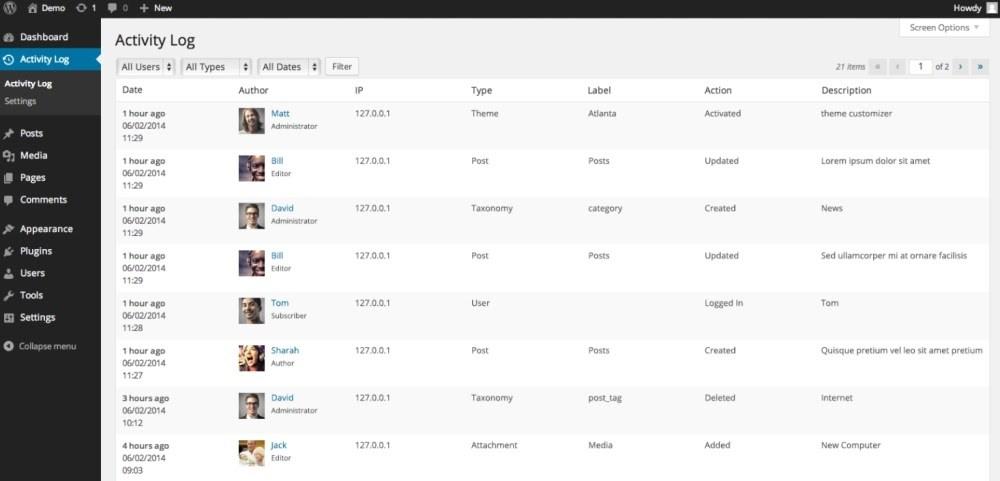 Here are some specific reasons why you should use a WordPress activity log plugin.
Improve Site Security
It can show failed login attempts, system modifications (including plugin updates), and user account updates. All can help to secure your website.
If your security solution doesn't track failed login attempts, they're quite valuable. Regular login attempts can be identified and blocked.
This allows for easy tracking and remediation of system settings and plugins.
Ensures Accountability
Users who are aware of the website logs should act accordingly. The best remedy is prevention!
Most WordPress activity logs include the user, time, changes, and a unique identifier (UID). All assist build an audit record of who changed what and when.
This is proof to utilize when needed.
Figuring Out Debugging Issues
Many website difficulties stem from a change. If a website ran perfectly for one minute and then stopped, logs will tell you what happened, when, and why.
They are vital in all types of troubleshooting and can save hours of investigative effort.
Monitoring Published Posts Activity
Content changes can help you monitor your contributors' timeliness and KPIs.
You can also refresh the content by checking when it was last updated.
Easy Report Creation for Management and Customers
If you administer websites for clients or for a corporation, WordPress activity logs can show that you are doing your job and fulfilling your duties.
It's hard to argue with data and if these logs for part of reporting, you have evidence to back up any claims you make.
Maintaining Regulatory Standards
Log files can help maintain compliance if you work in a regulated business or deal with information about regulated industries.
A niche use for WordPress activity logs, but one that's critical if you operate in a regulated setting.
Fast Detection of Malware
Your website or application security log tools let you track and detect malware. It aids in quick preventative steps.
With the help of these security logs, you can track down the holes in your website that enable malware.
We suggest logging in with malware detection and eradication of security plugins.
Tighten Login Page Security
By keeping track of logins, you hold each user accountable. In the event of a data breach, data loss, or system failure caused by human action, this record helps track the source.
WordPress Activity Logging Plugins
We now understand WordPress activity logs and why we should all use them. Now for the plugins.
| | | |
| --- | --- | --- |
| Plugin | Starting Price | Free Version Available |
| Sucuri | $199.99 | Yes |
| WP Activity Log | $89 | Yes |
| Simple History | Free | Yes |
| Activity Log | Free | Yes |
| Stream | Free | Yes |
| User Activity Log | $99 | Yes |
| Error Log Monitor | Free | Yes |
| User Activity Tracking and Log | $49 | No |
| Website File Changes Monitor | Free | Yes |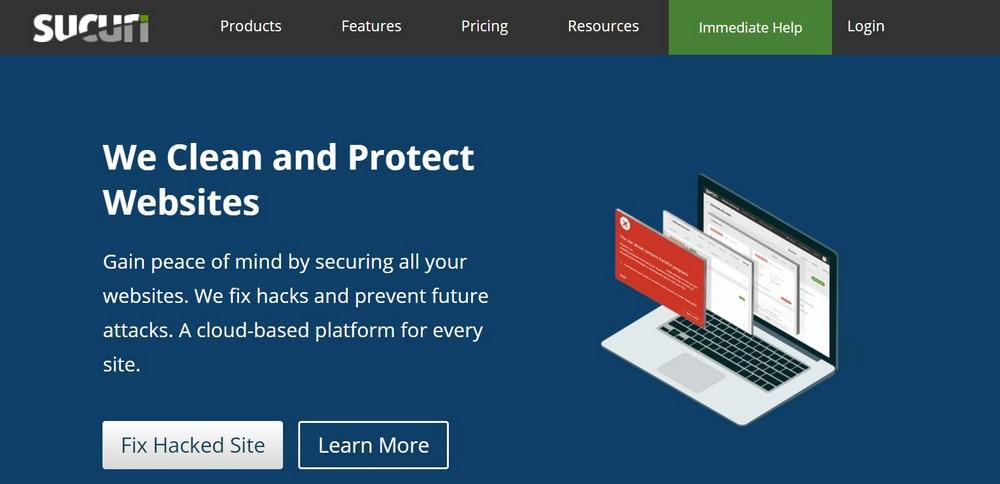 Sucuri is a WordPress security plugin that has logging as one of its core features. It's a premium plugin that helps remove malware, repair SEO, and blacklist status protects from hack attempts, DDoS (Distributed Denial of Service) attacks, zero-day exploits, and brute force attacks.
Sucuri is a highly regarded security plugin that monitors your website for changes, hack attempts, login attempts, user sessions, content changes, and just about anything else you could need.
Logging is only a small part of what Sucuri is capable of!
Pros of Sucuri:
Full WordPress security suite
Protects from external and internal attacks
Firewall and DDoS protection
Full site logging
Malware removal
Cons of Sucuri:
Sucuri Price
Sucuri costs from $199.99 per year.
Opinion of Sucuri
Sucuri is very good at what it does and is capable of much more than just tracking activity. The number of features and pricing makes it more suitable for those looking for a complete security solution rather than just log tracking.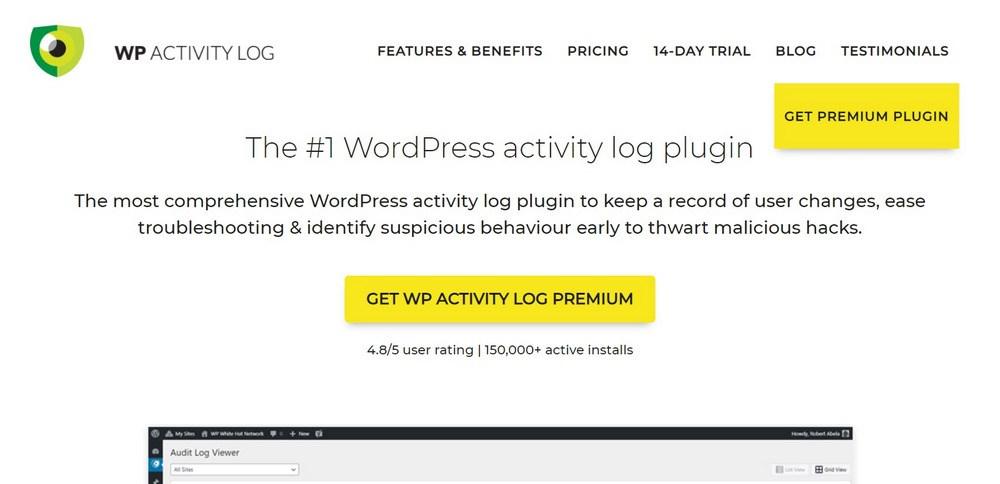 WP Activity Log used to be called WP Security Audit Log and is a dedicated logging plugin. It helps track users, logs changes, can track changes to other plugins like WooCommerce, and provides an audit trail of everything that happens on your website.
The premium version of WP Activity Log can also send SMS or email alerts of events, log out inactive users, integrate with Slack, provide logs externally to avoid tampering, and lots of other useful features.
This is a highly regarded WordPress activity log plugin with over a million users so is well worth trying.
Pros of WP Activity Log:
Tracks users, sessions, changes, plugins and everything that goes on
Can track changes to other plugins
Can send SMS or email alerts for specified events
Integrates with third-party tools
Can export logs elsewhere for increased security
Cons of WP Activity Log:
Notifications and Slack integration are premium only
WP Activity Log Price
WP Activity Log has a free and three premium tiers costing between $89 and $149 per year.
Opinion of WP Activity Log
WP Activity Log is a great WordPress activity log plugin that makes it simple to track users across your site. The ability to have logs stored externally has extra security and compliance benefits too. That makes it ideal for its purpose.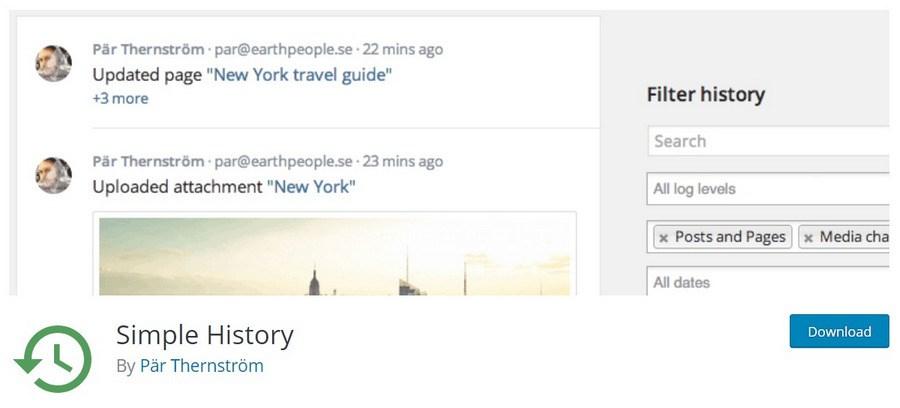 Simple History is a free WordPress activity log plugin available from the WordPress repository. It's a powerful logging tool that tracks content changes, comments, widgets, users, user profiles, failed logins, menu edits, and a selection of other elements.
Simple History can also track what happens with other plugins like Jetpack, Advanced Custom Fields, Enable Media Replace, Beaver Builder, and other plugins.
Considering it's free, this is a very feature-rich plugin. It doesn't quite have the depth of monitoring of WP Activity Log but it is very good at what it does!
Pros of Simple History:
Tracks changes to the content and your website
Audits user sessions and activity
Monitors failed logins
Monitors changes to other compatible plugins
Enables you to exclude users from logging
Cons of Simple History:
Not as feature-rich as some other WordPress activity logs
Simple History Price
Simple History is free to use.
Opinion of Simple History
Simple History is the ideal starter plugin to get you used to how log files are generated and used. It's free, easy to use, and tracks most of what you'll need to know. Ideal for hobby sites or non-commercial websites.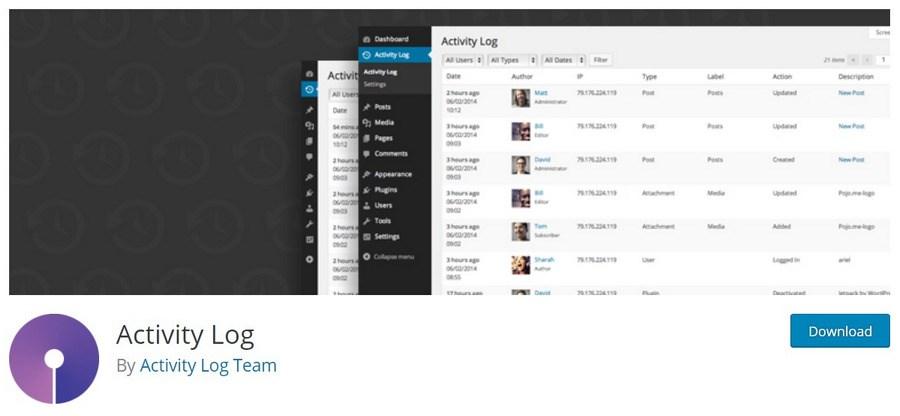 Activity Log is another free audit plugin for WordPress available from the repository. It's capable of logging website updates, WordPress updates, content changes, category changes, comments, media, users, theme changes, WooCommerce, and a whole lot more.
Activity Log can also send email notifications for user-defined alerts, export logs to a CSV (Excel) file for analysis, and even export records using the Export Personal Data tool for GDPR compliance.
Pros of Activity Log:
Logs most website changes
Monitors users and WordPress core
Can monitor and log WooCommerce activity
Customizable email notifications
Log file export tools
Cons of Activity Log:
Very little to complain about
Activity Log Price
Activity Log is free to use.
Opinion of Activity Log
If you're after a competent WP security audit log plugin with all the basic features you need, Activity Log is it!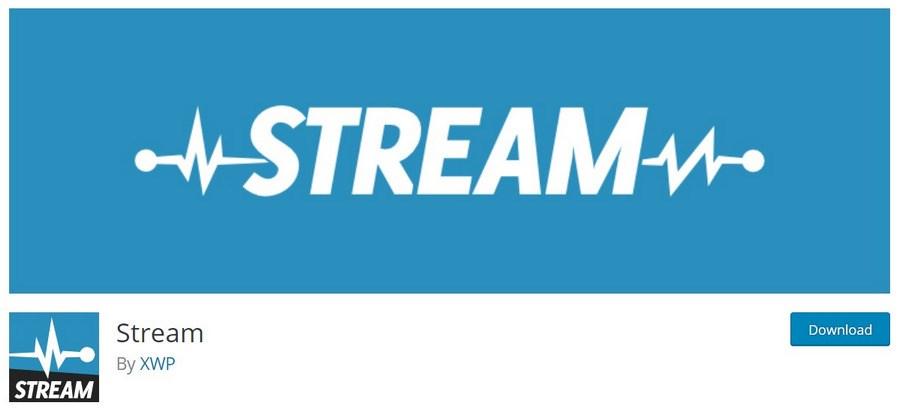 Stream is another very competent WordPress activity log plugin. It's able to log user interactions, system changes, content updates, media, users, theme changes, menus, media, WordPress updates, and all kinds of changes within your website.
The stream can also monitor third-party plugins like WooCommerce, Jetpack, Yoast SEO, BuddyPress, Easy Digital Downloads, Gravity Forms, and others. It can maintain logs onsite, integrate with Slack or IFTTT, and send email alerts.
It's another fully-featured plugin that delivers a lot for free.
Pros of Stream:
Logs the majority of activity you would ever need
Integrates with third-party plugins such as WooCommerce
Integrates with Slack and IFTTT
Can be configured to send email alerts
Works with WordPress Multisite
Cons of Stream:
Not much to criticize as it's free
Stream Price
Stream is free to use.
Opinion of Stream
Stream is another very good plugin that offers a lot of logging features for free. The ability to track some popular third-party plugins is an added bonus, as is Slack integration.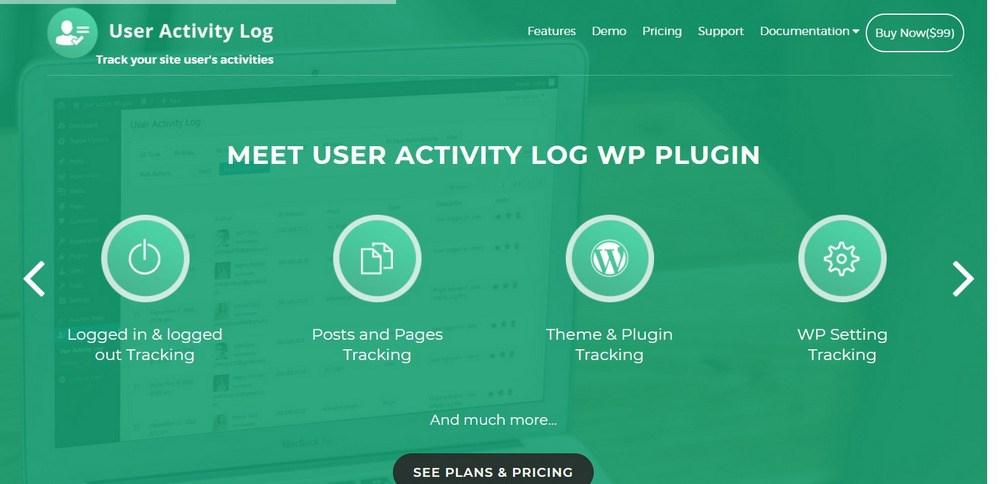 User Activity Log is a user-friendly WordPress activity log plugin with a free and premium version. It can track users, passwords, system changes, content changes, media, taxonomies, themes, plugins, and just about everything that goes on within a website.
The premium version allows you to configure exactly what is tracked, configure hooks to track only what you want, and allows log sorting, export, and log deletion. This version can also track WooCommerce, Easy Digital Downloads, Advance Custom Field, bbPress, Yoast SEO, and many other plugins too.
There is also a very useful demo of the User Activity Log in action as an added bonus.
Pros of User Activity Log:
Free and a premium version
Logs a wide range of users and activity types
Can monitor lots of third-party WordPress plugins
Log file export and email notifications
Advanced log configuration in the premium version
Cons of User Activity Log:
Premium version isn't cheap
User Activity Log Price
User Activity Log has a free version and premium version that costs $99.
Opinion of User Activity Log
User Activity Log is an excellent plugin that offers a lot, including third-party plugin integration. It tracks all the main log types you would want along with tools to manage them. It's an excellent option if you don't mind the price.

Error Log Monitor is a no-frills, no-nonsense WordPress activity log plugin that does exactly what it says on the tin. It's a free plugin that tracks PHP error logs rather than users and activity.
If you suffer from PHP issues or make regular changes to your website back end, this plugin can help you troubleshoot any PHP error that occurs. It's easy to install and configure and can send notifications of specific errors should you need them.
This is a niche plugin but could be invaluable for any website with frequent changes to PHP or that suffers regular errors or performance issues with it.
Pros of Error Log Monitor:
Monitors for PHP errors
Email notification feature
Log files can be set to admin only
Logs list where, when, and what for easy troubleshooting
Can work with large log files
Cons of Error Log Monitor:
Error Log Monitor Price
Error Log Monitor is free to use.
Opinion of Error Log Monitor
If you suffer repeated PHP issues, being able to log events is useful for troubleshooting. In that, it works perfectly. It doesn't track anything else though so is limited in scope.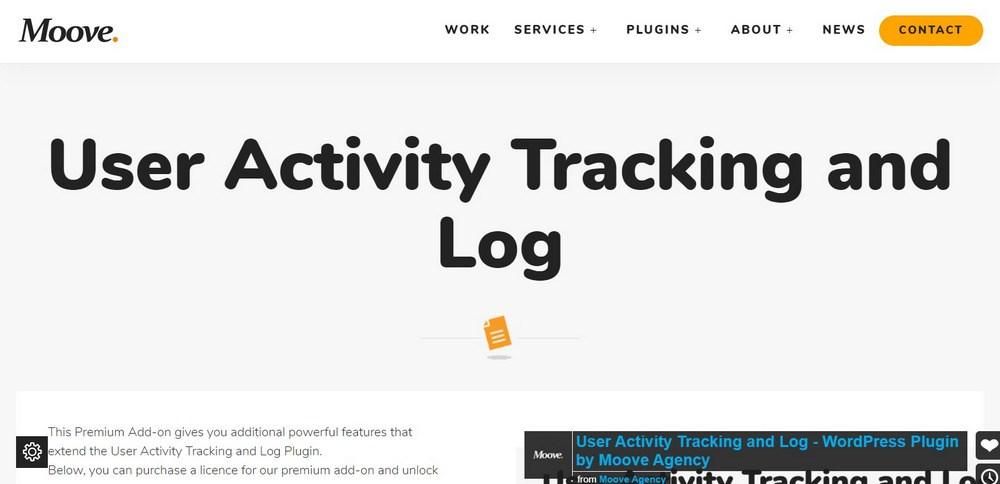 User Activity Tracking and Log is a premium WordPress activity log plugin that provides a user-friendly way to track users and website activity. It can audit users, user activity, content changes, and most things you would want to track on your site.
You can also track IP addresses, use search and filters, find by location, filter by role, export logs to CSV files and use the Rest API to view logs in JSON format.
The plugin can also store log files for up to 4 years if required and is GDPR and CCPA compliant.
Pros of User Activity Tracking and Log:
Full website tracking plugin
Simple to use
Search and filter function
Rest API compatible
GDPR and CCPA compliant
Cons of User Activity Tracking and Log:
User Activity Tracking and Log Pricing
User Activity Tracking and Log costs $49 up to $199.
Opinion of User Activity Tracking and Log
User Activity Tracking and Log is a great little WP security audit log plugin with an added bonus for developers in the Rest API compatibility. Aside from that, this premium plugin has most of the features most websites would need.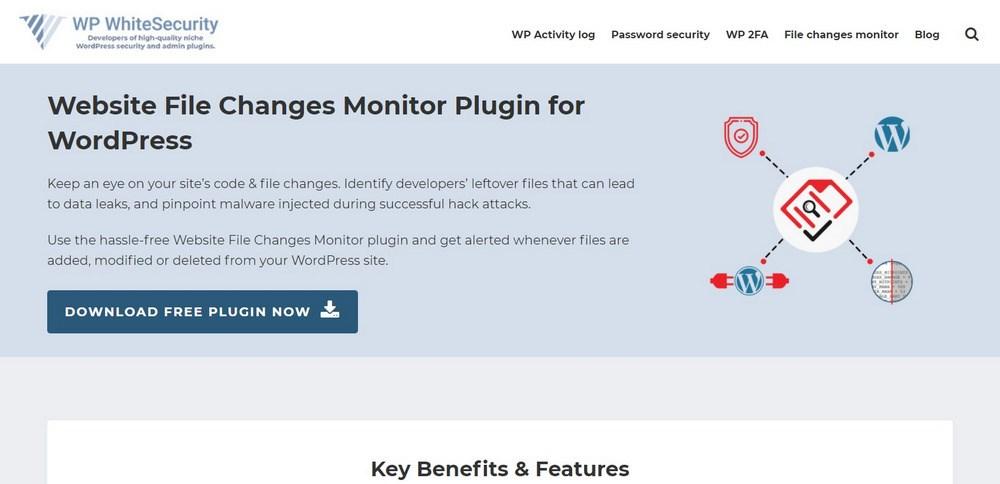 Website File Changes Monitor is our last WordPress activity log plugin but it certainly isn't the least. It's a fully-featured log tool that can log code changes, user file activity, and WordPress core changes, and scan and track changes to any code on your website.
The plugin can alert you via email, log hack attempts, and any malicious code changes, and check the integrity of WordPress.
This is more a security plugin to help protect against hacks and malware than a user audit tool but what it does, it does very well.
Pros of Website File Changes Monitor:
Monitors your entire website for code changes
Monitors WordPress core and scans for changes
Identify and alert to malware and attacks
Send email alerts where necessary
Track all code changes
Cons of Website File Changes Monitor:
More security tool than log tool
Website File Changes Monitor pricing
Website File Changes Monitor is free to use.
Opinion of Website File Changes Monitor
Website File Changes Monitor is free, is capable of logging hack attempts and code changes, and can notify you of defined alerts. Its log handling features aren't as extensive as some here but it should work for most smaller websites.
Setting up a WordPress Activity Log Plugin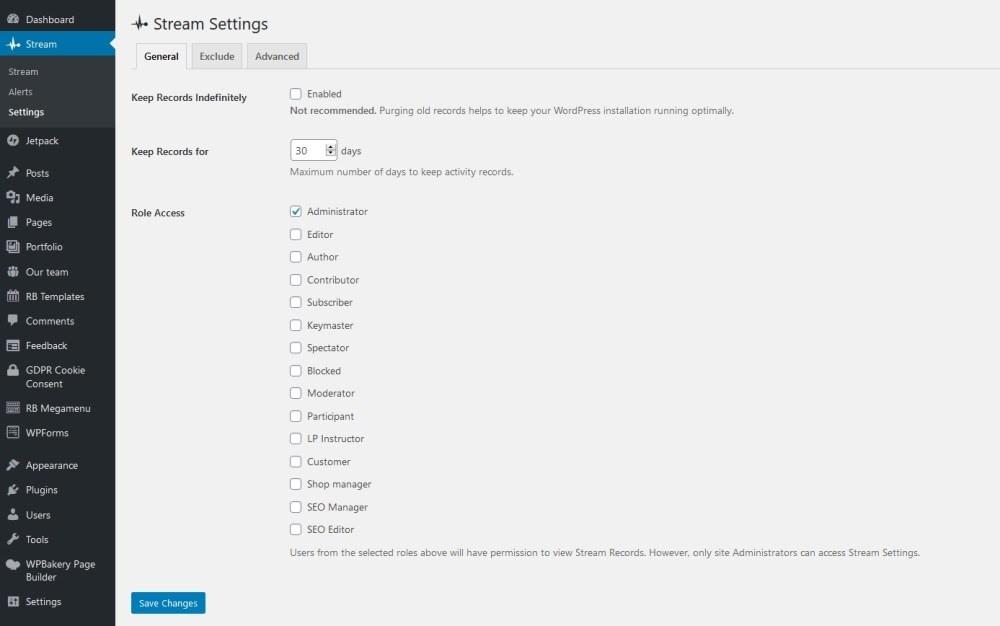 Setting up a WordPress activity log plugin is as straightforward as installing any other plugin.
As Stream is a plugin we recommend, let's set that up.
Log into your WordPress website
Select Plugins from the left menu of the WordPress dashboard
Select Add New and type 'stream' in the search box
Select Install and then Activate the Stream WordPress activity log plugin
Select the new Stream menu item in the WordPress dashboard
Select Settings from the submenu and work your way through them
The default settings should be enough for most websites but you can change anything you see. We wouldn't recommend keeping log files indefinitely as you will quickly find yourself running out of disk space!
We would recommend tracking comment flooding and WP cron. Access those from the Advanced tab at the top of the page.
Comment flooding is when a bot or hack sends multiple comments at once to your website. It can be useful to track these so you can bulk delete and don't have to rely on the WordPress comment tool to track everything.
If you use another type of comment plugin or a third-party comment plugin, you don't need to change this setting.
WP cron tracking is useful if you runcron jobs at the website back end. Cron jobs are automated scheduled tasks that perform basic maintenance. If you don't use cron jobs, you obviously don't need to use this setting.
Once configured, select the Stream submenu item under the main Stream menu to see a list of all log files it collects. No plugin can collect log files retrospectively so you will only see those generated from when the plugin was activated.
What Should an Activity Log Plugin Track?
Now that you have a good idea of the WordPress activity log plugins available and their strengths and weaknesses, let's take a closer look at what can be tracked and why.
Posts – Created, Updated and Deleted
Every WordPress activity log plugin tracks content. It isn't required while running a site alone, but it is required when working with others.
This information is useful for content scheduling, marketing, and general website administration.
Audit records also help SEO. You can theoretically trace an SEO boost or hit back to a specific modification. An SEO hit could be due to a reroute, broken link, or other easily fixed problem.
Using logs and other SEO tools can assist quantify what happened and when it started.
Pages – Created, Updated, and Deleted
Pages are vital to your website, therefore tracking changes to them is as vital as tracking posts.
Pages are the major engagement medium for most websites and must be controlled. Changes made by accident or design can be tracked for the same reasons as above.
New Added Users
Members can be added purposefully or through hacking. Keep an eye on both. If you run a subscription website, your main program will track new subscriptions, but separately logging them allows you to verify the data.
Unauthorized users can be tracked and terminated immediately. If you don't have a subscription or membership website and suddenly have a new user, you'll know about the issue and fix it.
Removed or Deleted Users
The same goes for users who leave your website. This can be a symptom of normal churn for subscription or membership sites, or something more.
Other users being added and then removed can indicate a hacker has accessed your account, made changes, and then tried to cover their tracks.
Failed Login Attempts
Failed login attempts are a crucial website security feature. Not all security plugins have this feature. So a WordPress activity log plugin is useful in both cases.
With so many hack bots online, it's insanely easy to target specific websites with dictionary or brute force attacks. Identifying failed login attempts might help you add IP addresses to your blocklist or add another degree of security.
In addition to security plugins, it is a useful tool for WordPress activity log plugins.
Do not overlook actual individuals who simply forgot their passwords. Take caution not to lose an important user!
Changes to Themes or Plugins
Changes to themes and plugins can be tracked. It's important to keep track of both illegal and inadvertent changes to your website.
If you tweak a theme or a plugin and anything goes wrong, you know what happened. If a theme or plugin suddenly stops working, look for automated updates or code changes that triggered the problem.
Log files help swiftly pinpoint root reasons. They can save hours of repair time!
WordPress Core and Settings Changes
Your website may suffer if you modify WordPress code or system settings. Limiting access to these settings is essential, but so is recording any changes.
You can log administrator changes to see who does what. If you make a mistake, you can easily undo it.
In the event of a hack, you can see who altered what code. You can then correct the error and block the user's IP address.
If a particular user keeps making mistakes, you can use WordPress user roles to restrict access to certain areas. That means revoking Admin or Super Admin access to minimize disruption.
System Settings and Updates
The same goes for system updates. It might be theme or plugin updates, WordPress core upgrades, or anything else.
WP activity log plugins guard against both user error and malicious behavior.
Because of this, your two-factor authentication plugin can stop working or your backups might run at peak hours.
After a hacker modifies your .htaccess file, your website becomes vulnerable to all kinds of vulnerabilities.
Tracking all changes allows you to immediately assess the situation and take appropriate action. Some plugins allow you to set up email notifications to be notified of changes.
User Profile Changes
If you manage a membership site or an LMS, you're used to users changing profiles frequently. A WordPress activity log plugin can help you determine which updates to disregard.
Password and email address changes are one red flag. Even if we forget our logins every now and again, it may signal something more ominous.
Changes in user roles might also be a warning flag. It could be a privileged administrator or a hacker. Or something else.
Without a WordPress activity log plugin, you would have no idea what was going on or how to intervene.
Comment moderation
For sites without a specific comments plugin, a WordPress activity log plugin can track all comments. This can be useful even if WordPress has its own comment feature.
And by monitoring logs, rather than multiple dashboards within your website, you can observe all activity in one spot.
In order to avoid offending others or bringing your website into shame, you should promptly remove offensive remarks.
Another way is to use log files.
Changes to Multisite Setups
WordPress Multisite makes managing several websites within one installation a breeze. But there's a lot to watch. A WordPress activity log plugin can consolidate all connected websites' logs into a single dashboard.
As a Super Admin, you can easily monitor all logs, activity, users, and logs.
If you've ever maintained WordPress Multisite, you know how much work it is. While the Multisite dashboard is quite useful, it is limited in terms of crucial aspects.
Log files can be used to track everything that happens on your websites. All of the log kinds and use cases covered here apply to WordPress multisite.
Final Thoughts
You now have complete knowledge of WordPress activity log plugins. It explains what they are, how they work, and how they can help.
So, which should you use?
We'd choose WP Activity Log for its simplicity, appealing interface, and option to export log files for added protection.
A backup is only useful if it is kept somewhere different than the main files, and this plugin does that well.
We also suggest Stream. It's a powerful free plugin. It can interface with Slack and IFTTT, and it does everything a WordPress activity log plugin should do. Free.
True to our other choices, you won't be sorry if you pick any of them!
Each has its own advantages and disadvantages, and some are more useful than others. Whatever you select, you'll soon be using log files for more than just monitoring!
Do you utilize a WP activity log? Is it one of these or not? Comment below with your ideas!
What's your favorite WordPress Activity Log Plugin?
Installing a plugin to track WordPress activity provides you with a lot of information about your site. WP Activity Log's comprehensive audit log is the best for us. It comes with a comprehensive set of features that allow users to not only monitor what's going on on a website but also to assist manage the site's security. A rapid response from the dashboard for individuals who are having problems is really beneficial.
Wrapping Up!
Activity logs are more vital than ever with the development of remote working and distributed teams. An activity log may help you track user activity, enhance user responsibility and communication, simplify troubleshooting, and improve the security of your WordPress site, among other things.
User activity monitoring can assist identify misuse and decreasing the risk of malware infections or data breaches by detecting improper behaviors. It also aids in lowering the cost of compliance while providing insight for bettering security measures.
Let us know how you get on!